Why Does Google Hate Me?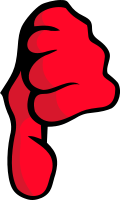 SERP ranking isn't about love or hate. Yet many website owners can't help feeling that Google hates them for some reason which makes them an easy prey for the so-called SEO gurus who claim that they can help them get that #1 position. Some naively think that these people somehow know the secrets of major search engines, while others think that it's a war out there and that in war, everything is allowed. In either way, the end result is always even a greater disappointment and frustration because dirty tricks simply don't work. This, however, doesn't mean that SEO is a waste of money. On the contrary, without it, it is impossible to achieve any noticeable improvement within a reasonable time (that is within several months).
Don't Blame It on Google
If you don't rank as high in SERP as you think you should, it isn't Google's fault. There can be a number of reasons why the world's most popular search engine doesn't want to rank your website higher. In our experience, the most common causes are:
Even if your website is perfectly optimised, it takes several months to establish a good and stable SERP ranking. This is especially true for niches where the competition is particularly tough and the top positions are held by well-established sites with several years of online presence. It's similar to launching a new brand. It takes some time to get noticed.
Anything that makes it difficult on search engine spiders to "read" your website can negatively affect your SERP ranking. There can be all sorts of things, usually small details which, however, can have a big impact. Therefore, it is a good idea to have your website reviewed by an expert to exclude technical errors as a factor.
Poorly written content, copied content, lack of content, duplicate content, keyword stuffing, etc. won't get you anywhere. What you need is original, interesting and unique content. It is usually a good idea to include relevant keywords but too many will cause more harm than good because Google might "think" that you are trying to deceive it.
You might have heard that backlinks will help you achieve a better ranking. However, this is only partially true. Backlinks are important because they are interpreted as a sign that your website is popular with the web users and therefore, deserves to be ranked higher. But this is true only for backlinks from authority sites with relevant content. Spammy links – various directories, blogs, forum comments, etc. are disapproved and penalised.
Looking for SEO Service? Pyranha Can Help
We are experts in organic, white-hat SEO that is approved by Google and other major search engines. We will review your website, develop a plan on what to do to improve your SERP rankings and help you carry out your SEO campaign. All at the best rates in the UK! For additional information, please contact us through email.